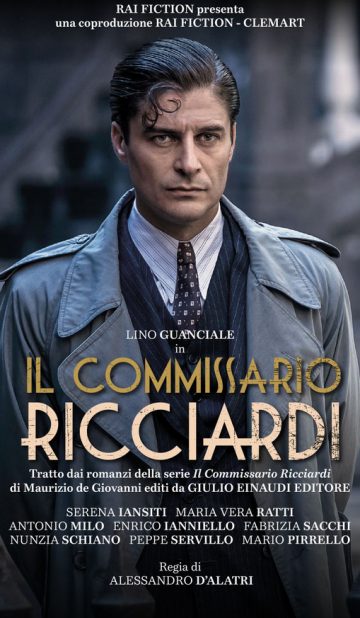 Alessandro D'Allatri

Lino Guanciale, Antonio Milo, Enrico Ianniello, Serena Iansiti, Maria Vera Ratti, Mario Pirrello, Fabrizia Sacchi, Nunzia Schiano, Adriano Falivene, Marco Palvetti, Peppe Servillo

Davide Sondelli

Pasquale Catalano

Carlo De Marino

Alessandra Torella

Clemart, Rai Fiction

Rai 1 - RaiPlay
Synopsis
Discover the Campania of the 30s with the interactive experience in augmented reality. Create your custom trailer and share it on social networks!
Create your own Custom Trailer
"Il commissario Ricciardi" (Commissioner Ricciardi) by Alessandro D'Alatri. Between Ingravallo and Dylan Dog: the investigation of a policeman above all suspicion.
Messes and mysteries in the alleys of Naples in the thirties for a refined TV series that recalls the atmospheres dear to the character of Gadda or the drawings of Tiziano Sclavi with a touch of the supernatural that never hurts in the shadow of Vesuvius. Six episodes, but a second series is already in the pipeline, aired in the prime time of Raiuno which beat the competition triumphing in the auditel data (24% share). Also this policeman, as well as the Lojacono of the "Bastards", jumps out directly from the books of Maurizio De Giovanni, but compared to the contemporary setting, Ricciardi investigates the city that lived and survived during the Fascist period. Perhaps the first "discovery" of this fiction is precisely given by the consideration that the murders, albeit not emphasized or at least reported in the news pages, took place even when he was there. Lino Guanciale gives a character and a curl to this "investigator" of the mystery that holds a gruesome secret inherited from his mother. In fact, he is able to "feel" the spirits of the victims who continue to obsessively repeat the phrase they were saying or thinking at the moment of passing away. Antonio Milo in the uniform of the faithful Maione and Nunzia Schiano in the role of the beloved Tata Rosa were also good.
Try the Augmented Reality experience
The Places